Accueil

>

Théorie des ondes et physique mésoscopique
Théorie des ondes et physique mésoscopique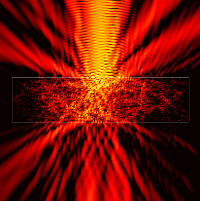 Thèmes de recherche
Actualités
Temperature of a nanoparticle above a substrate under radiative heating and cooling.
Kallel, H., R. Carminati, and K. Joulain.
Physical Review B – Condensed Matter and Materials Physics 95, no. 11 (2017).

Light-Mediated Cascaded Locking of Multiple Nano-Optomechanical Oscillators.
Gil-Santos, E., M. Labousse, C. Baker, A. Goetschy, W. Hease, C. Gomez, A. Lemaître, G. Leo, C. Ciuti, and I. Favero.
Physical Review Letters 118, no. 6 (2017).

Radiative transfer of acoustic waves in continuous complex media: Beyond the Helmholtz equation.
Baydoun, I., D. Baresch, R. Pierrat, and A. Derode.
Physical Review E 94, no. 5 (2016).
Responsable
Membres permanents
Stagiaires
Vincent BILLAULT
Tél. : 01 80 96 33 40
Mathieu DURAND
Tél. : 01 80 96 33 40
Anciens membres
Chang Chi KWONG, Olivier LESEUR, Diego BARESCH, Valentina PARIGI, Ibrahim BAYDOUN, Antoine CANAGUIER-DURAND, Da CAO, Marc DUBOIS, Nicolas BACHELARD, Alexandre CAZÉ, Kevin VYNCK, Étienne CASTANIÉ, Rémi VINCENT, Matthieu BOFFETY, Cédric VANDENBEM, Luis FROUFE-PEREZ, Hugues MARINCHIO