Accueil

>

Théorie des ondes et physique mésoscopique
Théorie des ondes et physique mésoscopique
Sujets de recherche
Propagation d'ondes dans les milieux corrélés
Speckle, information et contrôle des ondes
Lasers aléatoires
Diffusion dans les nuages atomiques
Optique quantique en milieux complexes
Actualités
Modeling of an active terahertz imaging system in brownout conditions.
Prophète, C., R. Pierrat, H. Sik, E. Kling, R. Carminati, and J. De Rosny.
Applied Optics 57, no. 21 (2018): 6017–6026.

Photon echoes in strongly scattering media: A diagrammatic approach.
Pierrat, R., R. Carminati, and J. L. Le Gouët.
Physical Review A 97, no. 6 (2018).

Non-Gaussian Correlations between Reflected and Transmitted Intensity Patterns Emerging from Opaque Disordered Media.
Starshynov, I., A. M. Paniagua-Diaz, N. Fayard, A. Goetschy, R. Pierrat, R. Carminati, and J. Bertolotti.
Physical Review X 8, no. 2 (2018).

One-Shot Measurement of the Three-Dimensional Electromagnetic Field Scattered by a Subwavelength Aperture Tip Coupled to the Environment.
Rahbany, N., I. Izeddin, V. Krachmalnicoff, R. Carminati, G. Tessier, and Y. De Wilde.
ACS Photonics 5, no. 4 (2018): 1539–1545.

Mutual Information between Reflected and Transmitted Speckle Images.
Fayard, N., A. Goetschy, R. Pierrat, and R. Carminati.
Physical Review Letters 120, no. 7 (2018).
Documents téléchargeables
Collaborations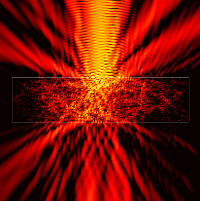 Responsable
Membres permanents
Collaborateurs extérieurs
Post-doctorants, ATER et doctorants
Jean-Philippe BANON
Tél. : 01 80 96 33 40
Mathieu DURAND
Tél. : 01 80 96 33 43
Louis DUTHEIL
Tél. : 01 80 96 33 41
Maxime MATTHES
Tél. : 01 80 96 33 42
Romain MONSARRAT
Tél. : 01 80 96 33 43
Clément ROBERT-RALISON
Tél. : 01 80 96 33 40
Alexandra SHEREMET
Tél. : 01 80 96 33 40
Tom SPERBER
Tél. : 01 80 96 33 41
Stagiaires
Anciens membres
Clotilde PROPHETE, Ugo TRICOLI, Nikos FAYARD, Dorian BOUCHET, Florian BIGOURDAN, Chang Chi KWONG, Olivier LESEUR, Diego BARESCH, Valentina PARIGI, Ibrahim BAYDOUN, Antoine CANAGUIER-DURAND, Da CAO, Marc DUBOIS, Nicolas BACHELARD, Alexandre CAZÉ, Kevin VYNCK, Étienne CASTANIÉ, Rémi VINCENT, Matthieu BOFFETY, Cédric VANDENBEM, Luis FROUFE-PEREZ, Hugues MARINCHIO