Accueil

>

Théorie des ondes et physique mésoscopique
Théorie des ondes et physique mésoscopique
Sujets de recherche
Propagation d'ondes dans les milieux corrélés
Speckle, information et contrôle des ondes
Lasers aléatoires
Diffusion dans les nuages atomiques
Optique quantique en milieux complexes
Actualités
One-Shot Measurement of the Three-Dimensional Electromagnetic Field Scattered by a Subwavelength Aperture Tip Coupled to the Environment.
Rahbany, N., I. Izeddin, V. Krachmalnicoff, R. Carminati, G. Tessier, and Y. De Wilde.
ACS Photonics 5, no. 4 (2018): 1539–1545.

Mutual Information between Reflected and Transmitted Speckle Images.
Fayard, N., A. Goetschy, R. Pierrat, and R. Carminati.
Physical Review Letters 120, no. 7 (2018).

Optimizing Hyperuniformity in Self-Assembled Bidisperse Emulsions.
Ricouvier, J., R. Pierrat, R. Carminati, P. Tabeling, and P. Yazhgur.
Physical Review Letters 119, no. 20 (2017).

Observation of mean path length invariance in light-scattering media.
Savo, R., R. Pierrat, U. Najar, R. Carminati, S. Rotter, and S. Gigan.
Science 358, no. 6364 (2017): 765–768.

Effect of microstructural elongation on backscattered field: Intensity measurement and multiple scattering estimation with a linear transducer array.
Baelde, A., J. Laurent, P. Millien, R. Coulette, W. B. Khalifa, F. Jenson, F. Sun, M. Fink, and C. Prada.
Ultrasonics 82 (2018): 379–389.
Documents téléchargeables
Collaborations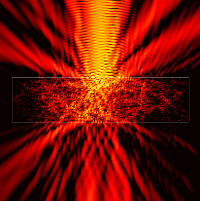 Responsable
Membres permanents
Collaborateurs extérieurs
Post-doctorants, ATER et doctorants
Jean-Philippe BANON
Tél. : 01 80 96 33 40
Mathieu DURAND
Tél. : 01 80 96 33 43
Nikos FAYARD
Tél. : 01 80 96 30 48
Maxime MATTHES
Tél. : 01 80 96 33 42
Clotilde PROPHETE
Tél. : 01 80 96 33 41
Tom SPERBER
Tél. : 01 80 96 33 41
Ugo TRICOLI
Tél. : 01 80 96 30 56
Stagiaires
Romain MONSARRAT
Clément ROBERT-RALISON
Hugo SCHMITT
Tél. : 01 80 96 33 40
Anciens membres
Dorian BOUCHET, Florian BIGOURDAN, Chang Chi KWONG, Olivier LESEUR, Diego BARESCH, Valentina PARIGI, Ibrahim BAYDOUN, Antoine CANAGUIER-DURAND, Da CAO, Marc DUBOIS, Nicolas BACHELARD, Alexandre CAZÉ, Kevin VYNCK, Étienne CASTANIÉ, Rémi VINCENT, Matthieu BOFFETY, Cédric VANDENBEM, Luis FROUFE-PEREZ, Hugues MARINCHIO