Actualités
| 2018/03/28 15:45 |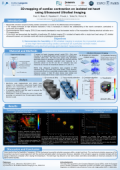 | 2018/03/26 15:53 |
| 2018/03/22 11:17 |
> Toutes les actualités...
Publications
Airborne ultrasound surface motion camera: Application to seismocardiography.
Shirkovskiy, P., A. Laurin, N. Jeger-Madiot, D. Chapelle, M. Fink, and R. K. Ing.
Applied Physics Letters 112, no. 21 (2018).

Noninvasive Imaging of the Coronary Vasculature Using Ultrafast Ultrasound.
Maresca, D., M. Correia, O. Villemain, A. Bizé, L. Sambin, M. Tanter, B. Ghaleh, and M. Pernot.
JACC: Cardiovascular Imaging 11, no. 6 (2018): 798–808.

Non-Gaussian Correlations between Reflected and Transmitted Intensity Patterns Emerging from Opaque Disordered Media.
Starshynov, I., A. M. Paniagua-Diaz, N. Fayard, A. Goetschy, R. Pierrat, R. Carminati, and J. Bertolotti.
Physical Review X 8, no. 2 (2018).

Real-time quantitative Schlieren imaging by fast Fourier demodulation of a checkered backdrop.
Wildeman, S.
Experiments in Fluids 59, no. 6 (2018).
> Toutes les publications...