Actualités
| 2017/11/10 17:40 |

| 2017/11/06 15:05 |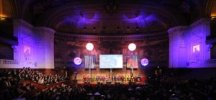 | 2017/10/26 12:47 |
> Toutes les actualités...
Publications
Slow waves in locally resonant metamaterials line defect waveguides.
Kaina, N., A. Causier, Y. Bourlier, M. Fink, T. Berthelot, and G. Lerosey.
Scientific Reports 7, no. 1 (2017).

Echogenicity enhancement by end-fluorinated polylactide perfluorohexane nanocapsules: Towards ultrasound-activable nanosystems.
Picheth, G., S. Houvenagel, C. Dejean, O. Couture, R. Alves de Freitas, L. Moine, and N. Tsapis.
Acta Biomaterialia 64 (2017): 313–322.

Transcranial ultrasonic stimulation modulates single-neuron discharge in macaques performing an antisaccade task.
Wattiez, N., C. Constans, T. Deffieux, P. M. Daye, M. Tanter, J. F. Aubry, and P. Pouget.
Brain Stimulation 10, no. 6 (2017): 1024–1031.

Vibro-acoustic stimulating ultrasonic guided waves in long bone.
Liu, Z. L., L. H. Song, L. Bai, K. L. Xu, and D. A. Ta.
Wuli Xuebao/Acta Physica Sinica 66, no. 15 (2017).
> Toutes les publications...