Actualités
| 2018/07/23 18:54 |

| 2018/07/20 15:39 |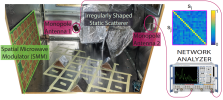 | 2018/06/20 21:17 |

> Toutes les actualités...
Publications
Towards anti-causal Green's function for three-dimensional sub-diffraction focusing.
Ma, G., X. Fan, F. Ma, J. de Rosny, P. Sheng, and M. Fink.
Nature Physics 14, no. 6 (2018): 608–612.

Ultrasound localization microscopy and super-resolution: A state of the art.
Couture, O., V. Hingot, B. Heiles, P. Muleki-Seya, and M. Tanter.
IEEE Transactions on Ultrasonics, Ferroelectrics, and Frequency Control 65, no. 8 (2018): 1304–1320.

Fatigue evaluation of long cortical bone using ultrasonic guided waves.
Bai, L., K. Xu, D. Li, D. Ta, L. H. Le, and W. Wang.
Journal of Biomechanics 77 (2018): 83–90.

Sensitivity of a dielectric layered structure on a scale below the periodicity: A fully local homogenized model.
Maurel, A., and J. J. Marigo.
Physical Review B 98, no. 2 (2018).
> Toutes les publications...