Actualités
| 2018/03/28 15:45 |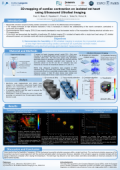 | 2018/03/26 15:53 |
| 2018/03/22 11:17 |
> Toutes les actualités...
Publications
Dynamic Metasurface Aperture as Smart Around-the-Corner Motion Detector.
Del Hougne, P., M. F. Imani, T. Sleasman, J. N. Gollub, M. Fink, G. Lerosey, and D. R. Smith.
Scientific Reports 8, no. 1 (2018).

Backscattering reduction for resonating obstacle in water-wave channel.
Bobinski, T., A. Maurel, P. Petitjeans, and V. Pagneux.
Journal of Fluid Mechanics 845 (2018): R4.

Off-axis digital holography with multiplexed volume Bragg gratings.
Puyo, L., J. P. Huignard, and M. Atlan.
Applied Optics 57, no. 12 (2018): 3281–3287.

One-Shot Measurement of the Three-Dimensional Electromagnetic Field Scattered by a Subwavelength Aperture Tip Coupled to the Environment.
Rahbany, N., I. Izeddin, V. Krachmalnicoff, R. Carminati, G. Tessier, and Y. De Wilde.
ACS Photonics 5, no. 4 (2018): 1539–1545.
> Toutes les publications...