Actualités
| 2017/11/10 17:40 |

| 2017/11/06 15:05 |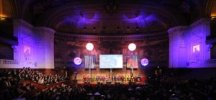 | 2017/10/26 12:47 |
> Toutes les actualités...
Publications
Hyperbolic metamaterials and surface plasmon polaritons.
Peragut, F., L. Cerutti, A. Baranov, J. P. Hugonin, T. Taliercio, Y. De Wilde, and J. J. Greffet.
Optica 4, no. 11 (2017): 1409–1415.

Multiple scattering limit in optical microscopy.
Badon, A., A. C. Boccara, G. Lerosey, M. Fink, and A. Aubry.
Optics Express 25, no. 23 (2017): 28914–28934.

Optimizing Hyperuniformity in Self-Assembled Bidisperse Emulsions.
Ricouvier, J., R. Pierrat, R. Carminati, P. Tabeling, and P. Yazhgur.
Physical Review Letters 119, no. 20 (2017).

In situ targeted activation of an anticancer agent using ultrasound-triggered release of composite droplets.
Bezagu, M., J. Clarhaut, B. Renoux, F. Monti, M. Tanter, P. Tabeling, J. Cossy, O. Couture, S. Papot, and S. Arseniyadis.
European Journal of Medicinal Chemistry 142 (2017): 2–7.
> Toutes les publications...