Actualités
| 2018/11/14 13:28 |

| 2018/10/25 13:54 |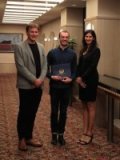 | 2018/10/02 16:22 |
> Toutes les actualités...
Publications
Leveraging Chaos for Wave-Based Analog Computation: Demonstration with Indoor Wireless Communication Signals.
Del Hougne, P., and G. Lerosey.
Physical Review X 8, no. 4 (2018).

Gray Scale Ultrasound, Color Doppler Ultrasound, and Contrast-Enhanced Ultrasound in Renal Parenchymal Diseases.
Quaia, E., J. M. Correas, M. Mehta, J. T. Murchison, A. G. Gennari, and E. J. R. Van Beek.
Ultrasound Quarterly 34, no. 4 (2018): 250–267.

2D and 3D real-time passive cavitation imaging of pulsed cavitation ultrasound therapy in moving tissues.
Suarez Escudero, D., G. Goudot, M. Vion, M. Tanter, and M. Pernot.
Physics in Medicine and Biology 63, no. 23 (2018).

Damage prediction via nonlinear ultrasound: A micro-mechanical approach.
Melchor, J., W. J. Parnell, N. Bochud, L. Peralta, and G. Rus.
Ultrasonics 93 (2019): 145–155.
> Toutes les publications...