Accueil

>

Optical Antennas & Metasurfaces
Optical Antennas & Metasurfaces
Our group is interested in the development of optical antennas and resonant metasurfaces for enhanced light-matter interactions at the nanoscale, with applications in single photon sources, nonlinear optics or biochemical sensing. In particular, we develop DNA templated plasmonic antennas, disodered plasmonic metasurfaces and nanometer-scale dielectric resonators.
We are always interested in PhD and post-doc candidates. Please contact Dr. Sebastien Bidault (
) for information on our current openings.
Recent Highlights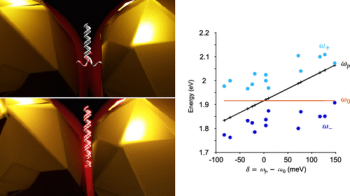 Reaching a strong coupling regime between a plasmonic resonator and a controlled number of quantum emitters is technically challenging at room temperature because of ultrafast damping mechanisms. In an article published in ACS Nano, we demonstrate that DNA based self-assembly, associated with an active control of the nanometer gap between two gold nanoparticles, provides the required nanoscale resolution to reach this coupling regime with 5 dye molecules. Classical electrodynamic simulations performed in collaboration with Institut Fresnel are in excellent agreement with the measured emitter-resonator coupling strengths.

In a recent letter published in ACS Photonics, we propose a novel statistical imaging scheme to offset the structural complexity of disordered nanophotonic surfaces. In this collaboration with Laboratoire Kastler Brossel, we demonstrate, in particular, that localized and delocalized plasmonic modes can be mapped independently using randomly wavefront-shaped femtosecond excitations.

In collaboration with colleagues from Laboratoire Kastler Brossel, we publish in Nano Letters a study that demonstrates how optical hot-spots and nonlinear luminescence can be locally enhanced in disordered gold metasurfaces using far-field wavefront control of plasmonic modes and femtosecond excitation. This work not only demonstrates how recent concepts of wavefront shaping in disordred media can be adapted to plasmonic systems but it also opens exciting perspectives for the development of programmable metasurfaces for field-enhanced spectroscopy.
News

11/2021 Congratulations to Jeanne Heintz who successfully defended her PhD thesis on the Purcell effect in colloidal plasmonic and dielectric resonators !


09/2021 Jeanne, Nemanja and Elise, in collaboration with Nicolas Bonod from Marseille, publish an article in ACS Nano on few-molecule strong coupling in plasmonic antennas assembled on DNA.


07/2021 Our project CARICATURES to develop strongly-coupled hybrid plasmonic resonators, with Sylvie Marguet at CEA Saclay and Gaëtan Bellot at CBS Montpellier, is funded by the French national research agency ANR.


07/2021 We coorganized the first C'Nano CNRS summer school in Erquy in Britanny where Sebastien gave a 3h lecture on light-matter interactions, nanophotonics and nanoscopy.


07/2021 Our collaborative work with Laboratoire Kastler Brossel on the statistical imaging of localized and delocalized plasmonic modes in disordered gold metasurfaces is published in ACS Photonics.


03/2021 Congratulations to Dr. Elise Gayet for successfully defending her PhD thesis on Hybrid Plasmonic Nanostructures Assembled on Active DNA origamis !


03/2021 We welcome a new MSc student Claudia Corti.


12/2020 Congratulations to Dr. Gauthier Roubaud for successfully defending his PhD thesis on Far-Field Wavefront Shaping in Resonant and Nonlinear Disordered Media !


04/2020 Disorder can become an asset in plasmonic metasurfaces : this is what we experimentally demonstrate in a recent publication in Nano Letters, with colleagues from Laboratoire Kastler Brossel, where we exploit far-field wavefront shaping to locally enhance nonlinear luminescence. Congratulations Gauthier for the beautiful study.


09/2019 With Nicolas Bonod (Institut Fresnel) and Mathieu Mivelle (INSP), we publish a perspective article in the Journal of Applied Physics that discusses the novel field of high-index nanoantennas and their ability to manipulate solid-state light emission at room temperature.


03/2019 In a collaborative work with INSP in Paris, Institut Fresnel in Marseille and IBM in San Jose, published in Advanced Optical Materials, we demonstrate how novel concepts of deep learning and genetic algorithms can be used to design optimized silicon-based resonators that feature strong local enhancements of the magnetic component of light.


03/2019 We welcome a new MSc student Francesca Legittimo.


10/2018 We welcome a new PhD student Jeanne Heintz.


08/2018 Our work on the temperature-dependent optical response of DNA-linked gold nanoparticle dimers is published in a special issue of Langmuir devoted to Nucleic Acids Nanoscience at Interfaces.


07/2018 Our group coorganized the 2018 GOLD Conference in Paris. Thanks to all the plenary & keynote speakers for their inspiring presentations, and to all contributors and attendees who turned this conference into a success !


04/2018 With our collaborators from Paris, Barcelona and Marseille, we just published in Nano Letters a study on the control of magnetic and electric spontaneous emission from rare-earth ions using hollow silicon resonators. Congrats Mathieu on the beautiful work.


02/2018 Sebastien highlighted the work of the group at SPIE Photonics West giving 2 invited and 4 contributed talks.