Actualités
| 2023/01/21 08:01 |

| 2023/01/09 09:40 |

| 2023/01/05 16:09 |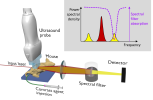 > Toutes les actualités...
Publications
Coherent backscattering of entangled photon pairs
Safadi, M., O. Lib, H. C. Lin, C. W. Hsu, A. Goetschy, and Y. Bromberg
Nature Physics (2023)

The Electronic Disorder Landscape of Mixed Halide Perovskites
Liu, Y., J. P. Banon, K. Frohna, Y. H. Chiang, G. Tumen-Ulzii, S. D. Stranks, M. Filoche, and R. H. Friend
ACS Energy Letters 8, no. 1, 250-258 (2023)

Reconstructing the Spatial Distribution of the Relative Shear Modulus in Quasi-static Ultrasound Elastography: Plane Stress Analysis
Seppecher, L., E. Bretin, P. Millien, L. Petrusca, and E. Brusseau
Ultrasound in Medicine and Biology (2023)

Using fluorescent beads to emulate single fluorophores
Alemán-Castañeda, L. A., S. Y. T. Feng, R. Gutiérrez-Cuevas, I. Herrera, T. G. Brown, S. Brasselet, and M. A. Alonso
Journal of the Optical Society of America A: Optics and Image Science, and Vision 39, no. 12, C167-C178 (2022)
> Toutes les publications...