Actualités
| 2021/09/08 15:29 |

| 2021/09/02 18:26 |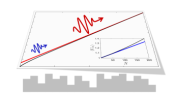 | 2021/07/16 08:38 |
> Toutes les actualités...
Publications
Universal Statistics of Waves in a Random Time-Varying Medium
Carminati, R., H. Chen, R. Pierrat, and B. Shapiro
Physical Review Letters 127, no. 9 (2021)

Waveguide efficient directional coupling and decoupling via an integrated plasmonic nanoantenna
Blanquer, G., V. Loo, N. Rahbany, C. Couteau, S. Blaize, R. Salas-Montiel, Y. De Wilde, and V. Krachmalnicoff
Optics Express 29, no. 18, 29034-29043 (2021)

Negative Transient Flux in the near Field of a Subwavelength Source
Li, X., P. Li, M. H. Lu, M. Fink, and G. Ma
Physical Review Applied 16, no. 1 (2021)

Fourier transform acousto-optic imaging with off-axis holographic detection
Dutheil, L., M. Bocoum, M. Fink, S. M. Popoff, F. Ramaz, and J. M. Tualle
Applied Optics 60, no. 24, 7107-7112 (2021)
> Toutes les publications...