Actualités
| 2016/02/26 14:30 |

L'Institut des sciences biologiques (INSB) a attribué la médaille de bronze 2016 à Olivier Couture pour ses travaux de recherche. La Médaille de bronze récompense le premier travail d'un chercheur, qui (...)
| 2016/02/04 10:38 |

Des chercheurs de l'Institut Langevin viennent de publier dans Physical Review Letters une expérience qui montre qu'il est possible, grâce à un simple miroir d'argent, d'étendre d'un facteur mille la (...)
| 2016/01/25 13:28 |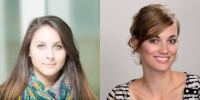 Claudia Errico et Marine Bézagu ont reçu le prix de la meilleure présentation et du meilleur poster au Symposium on Ultrasound Contrast Imaging. Elles ont été récompensées pour leurs travaux sur la (...)
> Toutes les actualités...
Dernières publications
On band gap predictions for multiresonant metamaterials on plates (L).
Yoritomo, J. Y., R. L. Weaver, P. Roux, M. Rupin, and E. G. Williams.
Journal Of The Acoustical Society Of America 139, no. 3 (2016): 1282–1284.

Near-field to far-field characterization of speckle patterns generated by disordered nanomaterials.
Parigi, V., E. Perros, G. Binard, C. Bourdillon, A. Maitre, R. Carminati, V. Krachmalnicoff, and Y. De Wilde.
Optics Express 24, no. 7 (2016): 7019–7027.

Detecting seismic activity with a covariance matrix analysis of data recorded on seismic arrays.
Seydoux, L., N. M. Shapiro, J. De Rosny, F. Brenguier, and M. Landès.
Geophysical Journal International 204, no. 3 (2016): 1430–1442.

Dynamic full field optical coherence tomography: Subcellular metabolic contrast revealed in tissues by interferometric signals temporal analysis.
Apelian, C., F. Harms, O. Thouvenin, and A. C. Boccara.
Biomedical Optics Express 7, no. 4 (2016): 1511–1524.
> Toutes les publications...
/B_test_restrictions>