Actualités
| 2022/04/08 13:48 |

| 2022/03/25 16:59 |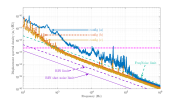 | 2022/03/14 16:57 |
> Toutes les actualités...
Publications
Nonlinear Waves Passing over Rectangular Obstacles: Multimodal Method and Experimental Validation
Monsalve, E., A. Maurel, V. Pagneux, and P. Petitjeans
Fluids 7, no. 5, 145 (2022)

Purcell effect with extended sources: the role of the cross density of states
Carminati, R., and M. Gurioli
Optics Express 30, no. 10, 16174-16183 (2022)

Mean arc theorem for exploring domains with randomly distributed arbitrary closed trajectories
Hidalgo-Caballero, S., A. Cassinelli, M. Labousse, and E. Fort
European Physical Journal Plus 137, no. 4 (2022)

Additive Manufacturing of 3D Luminescent ZrO2:Eu3+ Architectures
Winczewski, J., M. Herrera, C. Cabriel, I. Izeddin, S. Gabel, B. Merle, A. Susarrey Arce, and H. Gardeniers
Advanced Optical Materials, 2102758 (2022)
> Toutes les publications...