Actualités
| 2018/09/07 12:14 |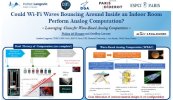 | 2018/08/28 12:43 |
> Toutes les actualités...
Publications
In vivo laser Doppler holography of the human retina.
Puyo, L., M. Paques, M. Fink, J. A. Sahel, and M. Atlan.
Biomedical Optics Express 9, no. 9 (2018): 4113–4129.

Layer potential approach for fast eigenvalue characterization of the Helmholtz equation with mixed boundary conditions.
Dupré, M., M. Fink, J. Garnier, and G. Lerosey.
Computational and Applied Mathematics 37, no. 4 (2018): 4675–4685.

Multi-scale mapping along the auditory hierarchy using high-resolution functional ultrasound in the awake ferret.
Bimbard, C., C. Demene, C. Girard, S. Radtke-Schuller, S. Shamma, M. Tanter, and Y. Boubenec.
eLife 7 (2018).

Novel Perfluorinated Triblock Amphiphilic Copolymers for Lipid-Shelled Microbubble Stabilization.
Corvis, Y., S. Manta, C. Thebault, O. Couture, H. Dhotel, J. P. Michel, J. Seguin, M. Bessodes, P. Espeau, C. Pichon et al.
Langmuir 34, no. 33 (2018): 9744–9753.
> Toutes les publications...