Actualités
| 2021/05/28 14:29 |
| 2021/05/04 10:38 |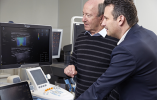 | 2021/04/20 09:30 |
> Toutes les actualités...
Publications
Open birdcage coil for head imaging at 7T
Nikulin, A. V., A. Vignaud, N. I. Avdievich, D. Berrahou, J. De Rosny, and A. Ourir
Magnetic Resonance in Medicine (2021)

Laboratory Landquakes: Insights From Experiments Into the High-Frequency Seismic Signal Generated by Geophysical Granular Flows
Arran, M. I., A. Mangeney, J. De Rosny, M. Farin, R. Toussaint, and O. Roche
Journal of Geophysical Research: Earth Surface 126, no. 5 (2021)

On the Path-Loss of Reconfigurable Intelligent Surfaces: An Approach Based on Green's Theorem Applied to Vector Fields
Danufane, F. H., M. Di Renzo, J. De Rosny, and S. Tretyakov
IEEE Transactions on Communications, 1-1 (2021)

A distortion matrix framework for high-resolution passive seismic 3-D imaging: Application to the San Jacinto fault zone, California
Touma, R., T. Blondel, A. Derode, M. Campillo, and A. Aubry
Geophysical Journal International 226, no. 2, 780-794 (2021)
> Toutes les publications...