Actualités
| 2018/11/14 13:28 |

| 2018/10/25 13:54 |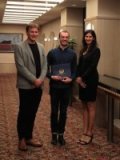 | 2018/10/02 16:22 |
> Toutes les actualités...
Publications
Multi-parametric functional ultrasound imaging of cerebral hemodynamics in a cardiopulmonary resuscitation model.
Demené, C., D. Maresca, M. Kohlhauer, F. Lidouren, P. Micheau, B. Ghaleh, M. Pernot, R. Tissier, and M. Tanter.
Scientific Reports 8, no. 1 (2018).

Conversion of Love waves in a forest of trees.
Maurel, A., J. J. Marigo, K. Pham, and S. Guenneau.
Physical Review B 98, no. 13 (2018).

A versatile and robust microfluidic device for capillary-sized simple or multiple emulsions production.
Teston, E., V. Hingot, V. Faugeras, C. Errico, M. Bezagu, M. Tanter, and O. Couture.
Biomedical microdevices 20, no. 4 (2018): 94.

Myocardial Thermal Ablation with a Transesophageal High-Intensity Focused Ultrasound Probe: Experiments on Beating Heart Models.
Greillier, P., B. Ankou, P. Bour, A. Zorgani, E. Abell, R. Lacoste, F. Bessière, M. Pernot, S. Catheline, B. Quesson et al.
Ultrasound in Medicine and Biology 44, no. 12 (2018): 2625–2636.
> Toutes les publications...