News
| 2018/10/02 16:22 |
| 2018/10/02 16:15 |
| 2018/09/07 12:14 |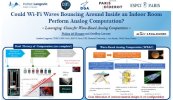 > More news...
Publications
Kerker Effect in Ultrahigh-Field Magnetic Resonance Imaging.
Dubois, M., L. Leroi, Z. Raolison, R. Abdeddaim, T. Antonakakis, J. De Rosny, A. Vignaud, P. Sabouroux, E. Georget, B. Larrat et al.
Physical Review X 8, no. 3 (2018).

The Reissner Fiber in the Cerebrospinal Fluid Controls Morphogenesis of the Body Axis.
Cantaut-Belarif, Y., J. R. Sternberg, O. Thouvenin, C. Wyart, and P. L. Bardet.
Current Biology 28, no. 15 (2018): 2479–2486.e4.

Ultrasound-modulated optical tomography in scattering media: Flux filtering based on persistent spectral hole burning in the optical diagnosis window.
Venet, C., M. Bocoum, J. B. Laudereau, T. Chaneliere, F. Ramaz, and A. Louchet-Chauvet.
Optics Letters 43, no. 16 (2018): 3993–3996.

Pkd2l1 is required for mechanoception in cerebrospinal fluid-contacting neurons and maintenance of spine curvature.
Sternberg, J. R., A. E. Prendergast, L. Brosse, Y. Cantaut-Belarif, O. Thouvenin, A. Orts-Del'Immagine, L. Castillo, L. Djenoune, S. Kurisu, J. R. McDearmid et al.
Nature Communications 9, no. 1 (2018).
> More publications...