Actualités
| 2020/12/21 12:08 |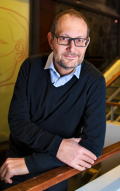 | 2020/11/26 10:28 |
> Toutes les actualités...
Publications
Probing intermittency and reversibility in a dense granular suspension under shear using multiply scattered ultrasound
Léopoldès, J., and X. Jia
Soft Matter 16, no. 47, 10716-10722 (2020)

Localization of unbounded contacts on vibrating elastic plates
Farin, M., C. Palerm, C. Prada, and J. De Rosny
Journal of the Acoustical Society of America 148, no. 6, 3455-3466 (2020)

Full-field optical coherence tomography: Novel imaging technique for extemporaneous high-resolution analysis of mucosal architecture in human gut biopsies
Quénéhervé, L., R. Olivier, M. J. Gora, C. Bossard, J. F. Mosnier, E. Benoit A La Guillaume, C. Boccara, C. Brochard, M. Neunlist, and E. Coron
Gut 70, no. 1, 6-8 (2021)

Observations of symmetry-induced topological mode steering in a reconfigurable elastic plate
Tang, K., M. Makwana, R. V. Craster, and P. Sebbah
Physical Review B 102, no. 21 (2020)
> Toutes les publications...