Actualités
| 2015/05/20 21:45 |

Trois présentations impliquant des membres de l'Institut Langevin ont été récompensées au 2015 International Congress on Ultrasonics : Light Control in Deep Tissue via Photoacoustic-guided Wavefront (...)
| 2015/05/11 18:30 |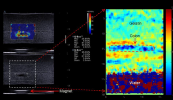 Jean-Luc Gennisson, Heldmuth Latorre et Mickaël Tanter publient dans la revue Nature sur l'influence de la mécano-transduction dans la progression du cancer du colon. Ces recherches sont issues (...)
| 2015/04/01 13:38 |
La Société Française de Génie Biologique et Médical, au cours du colloque RTIS (Recherche en Imagerie et Technologie pour la Santé) a remis le 27 Mars 2015 : Le Prix de thèse Innovation dans le domaine (...)
> Toutes les actualités...
Dernières publications
Modal method for the 2D wave propagation in heterogeneous anisotropic media.
Maurel, A., J. - F. Mercier, and S. Felix.
Journal Of The Optical Society Of America A-Optics Image Science And Vision 32, no. 5 (2015): 979–990.

Breakthroughs in photonics 2014: Random lasers.
Sebbah, P., and R. Carminati.
IEEE Photonics Journal 7, no. 3 (2015).

Deterministic control of broadband light through a multiply scattering medium via the multispectral transmission matrix.
Andreoli, D., G. Volpe, S. Popoff, O. Katz, S. Gresillon, and S. Gigan.
Scientific reports 5 (2015): 10347.

Single-side access, isotropic resolution, and multispectral three-dimensional photoacoustic imaging with rotate-translate scanning of ultrasonic detector array.
Gateau, J., M. Gesnik, J. - M. Chassot, and E. Bossy.
Journal of biomedical optics 20, no. 5 (2015): 56004.
> Toutes les publications...
/B_test_restrictions>