Actualités
| 2014/04/24 12:53 |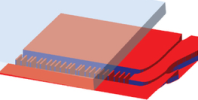 Des chercheurs de l'Institut, en collaboration avec le laboratoire de Physique de la Matière Condensée à Nice, viennent de publier un article dans Nature Physics sur le contrôle spectral d'un laser (...)
| 2014/03/24 18:31 |
Mathias Fink, en collaboration avec Amin Chabchoub de la Swinburne University of Technology de Melbourne en Australie, vient de publier dans Physical Review Letters un article sur la génération de (...)
| 2014/02/28 14:12 |
L'ESPCI ParisTech recherche un Maitre de conférences en optique dont l'activité de recherche se déroulera à l'Institut Langevin. Cliquez ici pour plus d'informations.
> Toutes les actualités...
Dernières publications
Detection and localization of a defect in a reverberant plate using acoustic field correlation.
Chehami, L., E. Moulin, J. De Rosny, C. Prada, O. B. Matar, F. Benmeddour, and J. Assaad.
Journal Of Applied Physics 115, no. 10 (2014).

Simultaneous electrochemical and 3D optical imaging of silver nanoparticle oxidation.
Batchelor-Mcauley, C., A. Martinez-Marrades, K. Tschulik, A. N. Patel, C. Combellas, F. Kanoufi, G. Tessier, and R. G. Compton.
Chemical Physics Letters 597 (2014): 20–25.

Strong tip-sample coupling in thermal radiation scanning tunneling microscopy.
Joulain, K., P. Ben-Abdallah, P. - O. Chapuis, Y. De Wilde, A. Babuty, and C. Henkel.
Journal Of Quantitative Spectroscopy & Radiative Transfer 136 (2014): 1–15.

Phase-sensitive narrowband heterodyne holography.
Bruno, F., J. - B. Laudereau, M. Lesaffre, N. Verrier, and M. Atlan.
Applied Optics 53, no. 7 (2014): 1252–1257.
> Toutes les publications...
/B_test_restrictions>