Actualités
| 2014/07/21 09:18 |

Au "World Congress of Biomechanics" qui a eu lieu à Boston les 7-11 Juillet 2014, le "Student award" a été décerné à Guillaume Dubois et Charlie Demené pour leur travaux respectifs : "A reliable (...)
| 2014/06/17 10:09 |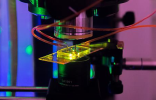 L'ESPCI ParisTech recherche un maitre de conférences en optique des milieux complexes dont l'activité de recherche se déroulera à l'Institut Langevin. Inscriptions et dépôt des dossiers du 01/09/2014 (...)
| 2014/04/24 12:53 |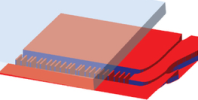 Des chercheurs de l'Institut, en collaboration avec le laboratoire de Physique de la Matière Condensée à Nice, viennent de publier un article dans Nature Physics sur le contrôle spectral d'un laser (...)
> Toutes les actualités...
Dernières publications
T1-weighted MRI as a substitute to CT for refocusing planning in MR-guided focused ultrasound.
Wintermark, M., N. J. Tustison, W. J. Elias, J. T. Patrie, W. Xin, N. Demartini, M. Eames, S. Sumer, B. Lau, A. Cupino et al.
Physics In Medicine And Biology 59, no. 13 (2014): 3599–3614.

Simulation of the active Brownian motion of a microswimmer.
Volpe, G., S. Gigan, and G. Volpe.
American Journal Of Physics 82, no. 7 (2014): 659–664.

Experimental Demonstration of Ordered and Disordered Multiresonant Metamaterials for Lamb Waves.
Rupin, M., F. Lemoult, G. Lerosey, and P. Roux.
Physical Review Letters 112, no. 23 (2014).

Far-field imaging with a multi-frequency metalens.
Jouvaud, C., A. Ourir, and J. De Rosny.
Applied Physics Letters 104, no. 24 (2014).
> Toutes les publications...
/B_test_restrictions>