Actualités
| 2014/07/21 09:18 |

Au "World Congress of Biomechanics" qui a eu lieu à Boston les 7-11 Juillet 2014, le "Student award" a été décerné à Guillaume Dubois et Charlie Demené pour leur travaux respectifs : "A reliable (...)
| 2014/06/17 10:09 |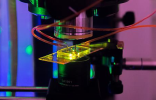 L'ESPCI ParisTech recherche un maitre de conférences en optique des milieux complexes dont l'activité de recherche se déroulera à l'Institut Langevin. Inscriptions et dépôt des dossiers du 01/09/2014 (...)
| 2014/04/24 12:53 |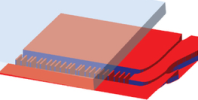 Des chercheurs de l'Institut, en collaboration avec le laboratoire de Physique de la Matière Condensée à Nice, viennent de publier un article dans Nature Physics sur le contrôle spectral d'un laser (...)
> Toutes les actualités...
Dernières publications
Temporal behavior of laser induced elastic plate resonances.
Laurent, J., D. Royer, and C. Prada.
Wave Motion 51, no. 6 (2014): 1011–1020.

Green's function retrieval and fluctuations of cross density of states in multiple-scattering media.
De Rosny, J., and M. Davy.
Epl 106, no. 5 (2014).

Light Transport and Localization in Two-Dimensional Correlated Disorder.
Conley, G. M., M. Burresi, F. Pratesi, K. Vynck, and D. S. Wiersma.
Physical Review Letters 112, no. 14 (2014).

Extraordinary transmission through subwavelength dielectric gratings in the microwave range.
Akarid, A., A. Ourir, A. Maurel, S. Felix, and J. - F. Mercier.
Optics Letters 39, no. 13 (2014): 3752–3755.
> Toutes les publications...
/B_test_restrictions>