Actualités
| 2015/06/05 09:35 |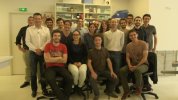 Le grand prix scientifique de la fondation NRJ-Institut de France a été remis le Mercredi 3 Juin 2015, à Mickaël Tanter et son équipe par Yves Agid, académicien, pour leurs travaux en "Neuro-Imagerie (...)
| 2015/05/20 21:45 |

Trois présentations impliquant des membres de l'Institut Langevin ont été récompensées au 2015 International Congress on Ultrasonics : Light Control in Deep Tissue via Photoacoustic-guided Wavefront (...)
| 2015/05/11 18:30 |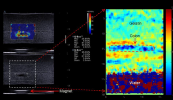 Jean-Luc Gennisson, Heldmuth Latorre et Mickaël Tanter publient dans la revue Nature sur l'influence de la mécano-transduction dans la progression du cancer du colon. Ces recherches sont issues (...)
> Toutes les actualités...
Dernières publications
Elastography for Muscle Biomechanics: Toward the Estimation of Individual Muscle Force.
Hug, F., K. Tucker, J. - L. Gennisson, M. Tanter, and A. Nordez.
Exercise and sport sciences reviews 43, no. 3 (2015): 125–33.

Holographic laser Doppler imaging of pulsatile blood flow.
Bencteux, J., P. Pagnoux, T. Kostas, S. Bayat, and M. Atlan.
Journal of biomedical optics 20, no. 6 (2015): 66006.

Singular-value demodulation of phase-shifted holograms.
Lopes, F., and M. Atlan.
Optics Letters 40, no. 11 (2015): 2541–2544.

Focusing on plates: Controlling guided waves using negative refraction.
Philippe, F. D., T. W. Murray, and C. Prada.
Scientific Reports 5 (2015).
> Toutes les publications...
/B_test_restrictions>