Actualités
| 2014/11/26 11:51 |
Des chercheurs de l'Institut Langevin (ESPCI ParisTech/CNRS, équipe de Rémi Carminati et Romain Pierrat), du Laboratoire Kastler-Brossel (ENS/UPMC/CNRS, équipe de Sylvain Gigan) et de l'Institut de (...)
| 2014/11/24 14:50 |
Les travaux de thèse de Charlie Démené sur l'imagerie fonctionnelle ultrasonore du nouveau né sont mis a l'honneur dans le mensuel Science et Avenir du mois de décembre consacré a la High Tech (...)
| 2014/11/24 14:27 |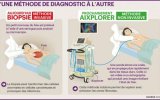 Dans le magazine du Parisien du 14 Novemebre 2014 ; Thomas Deffieux, Jean Luc Gennisson et Mickael Tanter démontrent avec leurs collègues du service d'hépatologie de l'hopital Cochin l'efficacité (...)
> Toutes les actualités...
Dernières publications
Improving photoacoustic-guided optical focusing in scattering media by spectrally filtered detection.
Chaigne, T., J. Gateau, O. Katz, C. Boccara, S. Gigan, and E. Bossy.
Optics Letters 39, no. 20 (2014): 6054–6057.

Quantitative evaluation of atrial radio frequency ablation using intracardiac shear-wave elastography.
Kwiecinski, W., J. Provost, R. Dubois, F. Sacher, M. Haissaguerre, M. Legros, A. Nguyen-Dinh, R. Dufait, M. Tanter, and M. Pernot.
Medical physics 41, no. 11 (2014): 112901.

Fluorescent correlation spectroscopy measurements with adaptive optics in the intercellular space of spheroids.
Leroux, C. - E., S. Monnier, I. Wang, G. Cappello, and A. Delon.
Biomedical Optics Express 5, no. 10 (2014): 3730–3738.

Non-invasive single-shot imaging through scattering layers and around corners via speckle correlations.
Katz, O., P. Heidmann, M. Fink, and S. Gigan.
Nature Photonics 8, no. 10 (2014).
> Toutes les publications...
/B_test_restrictions>