Actualités
| 2015/08/05 17:11 |
The magic of waves Jeudi 05 et Vendredi 06 Novembre 2015 - ESPCI, 10 rue Vauquelin, 75005 Paris, France L'Institut Langevin organise un colloque scientifique international en l'honneur des 70 ans (...)
| 2015/08/05 17:00 |

Des chercheurs de l'Institut viennent de publier dans Nature Photonics sur une méthode permettant l'observation d'échantillons biologiques avec une résolution 3D isotrope nanométrique. N. Bourg, C. (...)
| 2015/06/05 09:35 |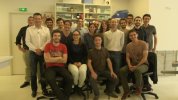 Le grand prix scientifique de la fondation NRJ-Institut de France a été remis le Mercredi 3 Juin 2015, à Mickaël Tanter et son équipe par Yves Agid, académicien, pour leurs travaux en "Neuro-Imagerie (...)
> Toutes les actualités...
Dernières publications
Late Reverberation Synthesis: From Radiance Transfer to Feedback Delay Networks.
Bai, H., G. Richard, and L. Daudet.
IEEE/ACM Transactions on Speech and Language Processing 23, no. 12 (2015): 2260–2271.

Scattering mean free path in continuous complex media: Beyond the Helmholtz equation.
Baydoun, I., D. Baresch, R. Pierrat, and A. Derode.
Physical Review E – Statistical, Nonlinear, and Soft Matter Physics 92, no. 3 (2015).

Intensity correlations between reflected and transmitted speckle patterns.
Fayard, N., A. Cazé, R. Pierrat, and R. Carminati.
Physical Review A – Atomic, Molecular, and Optical Physics 92, no. 3 (2015).

Hypothermic Total Liquid Ventilation Is Highly Protective Through Cerebral Hemodynamic Preservation and Sepsis-Like Mitigation After Asphyxial Cardiac Arrest.
Kohlhauer, M., F. Lidouren, I. Remy-Jouet, N. Mongardon, C. Adam, P. Bruneval, H. Hocini, Y. Levy, F. Blengio, P. Carli et al.
Critical care medicine 43, no. 10 (2015): e420–30.
> Toutes les publications...
/B_test_restrictions>