Actualités
| 2015/08/05 17:11 |
The magic of waves Jeudi 05 et Vendredi 06 Novembre 2015 - ESPCI, 10 rue Vauquelin, 75005 Paris, France L'Institut Langevin organise un colloque scientifique international en l'honneur des 70 ans (...)
| 2015/08/05 17:00 |

Des chercheurs de l'Institut viennent de publier dans Nature Photonics sur une méthode permettant l'observation d'échantillons biologiques avec une résolution 3D isotrope nanométrique. N. Bourg, C. (...)
| 2015/06/05 09:35 |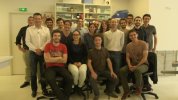 Le grand prix scientifique de la fondation NRJ-Institut de France a été remis le Mercredi 3 Juin 2015, à Mickaël Tanter et son équipe par Yves Agid, académicien, pour leurs travaux en "Neuro-Imagerie (...)
> Toutes les actualités...
Dernières publications
Softening of stressed granular packings with resonant sound waves.
Reichhardt, C. J. O., L. M. Lopatina, X. Jia, and P. A. Johnson.
Physical Review E 92, no. 2 (2015).

Measurements of ultrasonic diffusivity and transport speed from coda waves in a resonant multiple scattering medium.
Viard, N., and A. Derode.
Journal Of The Acoustical Society Of America 138, no. 1 (2015): 134–145.

3-D ultrafast doppler imaging applied to the noninvasive mapping of blood vessels in Vivo.
Provost, J., C. Papadacci, C. Demene, J. L. Gennisson, M. Tanter, and M. Pernot.
IEEE Transactions on Ultrasonics, Ferroelectrics, and Frequency Control 62, no. 8 (2015): 1467–1472.

Elastography of multicellular aggregates submitted to osmo-mechanical stress.
Leroux, C. E., J. Palmier, A. C. Boccara, G. Cappello, and S. Monnier.
New Journal of Physics 17, no. 7 (2015).
> Toutes les publications...
/B_test_restrictions>