Actualités
| 2015/06/05 09:35 |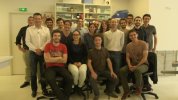 Le grand prix scientifique de la fondation NRJ-Institut de France a été remis le Mercredi 3 Juin 2015, à Mickaël Tanter et son équipe par Yves Agid, académicien, pour leurs travaux en "Neuro-Imagerie (...)
| 2015/05/20 21:45 |

Trois présentations impliquant des membres de l'Institut Langevin ont été récompensées au 2015 International Congress on Ultrasonics : Light Control in Deep Tissue via Photoacoustic-guided Wavefront (...)
| 2015/05/11 18:30 |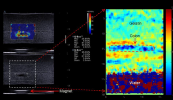 Jean-Luc Gennisson, Heldmuth Latorre et Mickaël Tanter publient dans la revue Nature sur l'influence de la mécano-transduction dans la progression du cancer du colon. Ces recherches sont issues (...)
> Toutes les actualités...
Dernières publications
Wave-Field Shaping in Cavities: Waves Trapped in a Box with Controllable Boundaries.
Dupré, M., P. Del Hougne, M. Fink, F. Lemoult, and G. Lerosey.
Physical Review Letters 115 (2015): 017701.

Experimental demonstration of epsilon-near-zero water waves focusing.
Bobinski, T., A. Eddi, P. Petitjeans, A. Maurel, and V. Pagneux.
Applied Physics Letters 107, no. 1 (2015).

Mechanical induction of the tumorigenic beta-catenin pathway by tumour growth pressure.
Fernandez-Sanchez, M. E., S. Barbier, J. Whitehead, G. Bealle, A. Michel, H. Latorre-Ossa, C. Rey, L. Fouassier, A. Claperon, L. Brulle et al.
Nature 523, no. 7558 (2015): 92–+.

Laser induced zero-group velocity resonances in transversely isotropic cylinder.
Laurent, J., D. Royer, T. Hussain, F. Ahmad, and C. Prada.
Journal Of The Acoustical Society Of America 137, no. 6 (2015): 3325–3334.
> Toutes les publications...
/B_test_restrictions>