Actualités
| 2015/08/05 17:11 |
The magic of waves Jeudi 05 et Vendredi 06 Novembre 2015 - ESPCI, 10 rue Vauquelin, 75005 Paris, France L'Institut Langevin organise un colloque scientifique international en l'honneur des 70 ans (...)
| 2015/08/05 17:00 |

Des chercheurs de l'Institut viennent de publier dans Nature Photonics sur une méthode permettant l'observation d'échantillons biologiques avec une résolution 3D isotrope nanométrique. N. Bourg, C. (...)
| 2015/06/05 09:35 |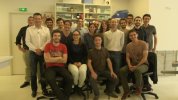 Le grand prix scientifique de la fondation NRJ-Institut de France a été remis le Mercredi 3 Juin 2015, à Mickaël Tanter et son équipe par Yves Agid, académicien, pour leurs travaux en "Neuro-Imagerie (...)
> Toutes les actualités...
Dernières publications
Influence of nanoscale temperature rises on photoacoustic generation: Discrimination between optical absorbers based on thermal nonlinearity at high frequency.
Simandoux, O., A. Prost, J. Gateau, and E. Bossy.
Photoacoustics 3, no. 1 (2015): 20–25.

Strong Modification of Magnetic Dipole Emission through Diabolo Nanoantennas.
Mivelle, M., M. Mivelle, T. Grosjean, G. W. Burr, U. C. Fischer, M. F. Garcia-Parajo, and M. F. Garcia-Parajo.
ACS Photonics 2, no. 8 (2015): 1071–1076.

Revealing the Cu<sup>2+</sup> ions localization at low symmetry Bi sites in photorefractive Bi<inf>12</inf>GeO<inf>20</inf> crystals doped with Cu and v by high frequency EPR.
Nistor, S. V., M. Stefan, E. Goovaerts, F. Ramaz, and B. Briat.
Journal of Magnetic Resonance 259 (2015): 87–94.

Softening of stressed granular packings with resonant sound waves.
Reichhardt, C. J. O., L. M. Lopatina, X. Jia, and P. A. Johnson.
Physical Review E 92, no. 2 (2015).
> Toutes les publications...
/B_test_restrictions>