Actualités
| 2014/07/21 09:18 |

Au "World Congress of Biomechanics" qui a eu lieu à Boston les 7-11 Juillet 2014, le "Student award" a été décerné à Guillaume Dubois et Charlie Demené pour leur travaux respectifs : "A reliable (...)
| 2014/06/17 10:09 |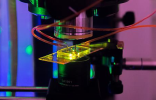 L'ESPCI ParisTech recherche un maitre de conférences en optique des milieux complexes dont l'activité de recherche se déroulera à l'Institut Langevin. Inscriptions et dépôt des dossiers du 01/09/2014 (...)
| 2014/04/24 12:53 |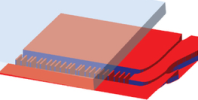 Des chercheurs de l'Institut, en collaboration avec le laboratoire de Physique de la Matière Condensée à Nice, viennent de publier un article dans Nature Physics sur le contrôle spectral d'un laser (...)
> Toutes les actualités...
Dernières publications
Experimental Demonstration of Ordered and Disordered Multiresonant Metamaterials for Lamb Waves.
Rupin, M., F. Lemoult, G. Lerosey, and P. Roux.
Physical Review Letters 112, no. 23 (2014).

Far-field imaging with a multi-frequency metalens.
Jouvaud, C., A. Ourir, and J. De Rosny.
Applied Physics Letters 104, no. 24 (2014).

Intervertebral disc characterization by shear wave elastography: An in vitro preliminary study.
Vergari, C., P. Rouch, G. Dubois, D. Bonneau, J. Dubousset, M. Tanter, J. - L. Gennisson, and W. Skalli.
Proceedings Of The Institution Of Mechanical Engineers Part H-Journal Of Engineering In Medicine 228, no. 6 (2014): 607–615.

Noise and signal scaling factors in digital holography in weak illumination: relationship with shot noise.
Lesaffre, M., N. Verrier, and M. Gross.
Applied Optics 52, no. 1 (2013): A81–A91.
> Toutes les publications...
/B_test_restrictions>