Physique des Ondes pour la Médecine - Inserm U979
Présentation de l'équipe
L'équipe Inserm U979 « Physique des Ondes pour la Médecine » est une unité Inserm/CNRS/ESPCI créée en Janvier 2008 au sein de l'Institut Langevin et dirigée par Mickaël Tanter (directeur adjoint Mathieu Pernot). Elle regroupe des physiciens spécialisés dans le domaine de la physique des ondes (optiques et ultrasonores) pour l'imagerie biomédicale allant des échelles cellulaires à l'échelle des organes.
Nous développons de nouvelles techniques pour l'imagerie médicale et la thérapie extracorporelle basées sur l'utilisation d'ondes ultrasonores, optiques ou électromagnétiques. Pour cela, nous avons été amenés à réaliser plusieurs plateformes ultrasonores et optiques très originales qui permettent de valider in vitro puis in vivo ces nouvelles approches. L'unité a été pionnière de nombreux concepts d'imagerie biomédicale tels que l'élastographie transitoire, la Shear Wave Elastography, l'échographie ultrarapide, et récemment le fUltrasound, imagerie fonctionnelle cérébrale par ultrasons. Enfin, nous nous tournons résolument vers des approches particulièrement innovantes d' "imagerie multi-ondes" exploitant les interactions entre ondes de différentes nature au sein des tissus.
Thèmes de recherche
La liste complète de nos produits et activités de recherche est téléchargeable ici.
Membres
Directeur

Directeur adjoint

Responsable administrative

Khadija BERTINO
Tél. : 01 80 96 30 55
Actualités
Jack Sauvage remporte le Prix Etudiant 2018 du IEEE International Ultrasonics Symposium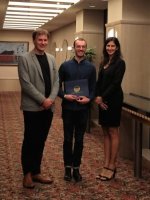 Jack Sauvage a remporté le Best Student Paper Award au congrès IEEE International Ultrasonics Symposium qui se déroulait à Kobé (Japon) du 20 au 25 octobre 2018. Ses travaux, intitulés
"Ultrafast 4D Doppler Imaging of the rat brain with a large aperture Row Column addressed probe"
, visent à développer une solution efficace pour l'échographie ultrarapide 4D à partir de sondes ultrasonores particulières, permettant des acquisitions volumétriques avec un faible nombre de transducteurs. Les résultats viennent d'être publiés dans la revue
Physics in Medicine & Biology
et sont
accessibles ici
.
Fait unique dans l'histoire de ce congrès international - le plus grand pour la recherche en ultrasons, c'est la sixième année consécutive que le prix étudiant est remporté par un doctorant de l'équipe
Physique des Ondes pour la Médecine
.
Un bond en avant pour les ultrasons biomédicaux grâce à la Fondation Bettencourt Schueller
Diagnostiquer les maladies cardiaques avec un capteur miniature intelligent, soigner les malformations cardiaques chez l'enfant sans opération en utilisant des ondes focalisées, voir le réseau vasculaire humain complet jusqu'à ses plus infimes vaisseaux avec à un imageur non invasif : ces projets aux airs de science-fiction vont se concrétiser à l'aide de la Fondation Bettencourt-Schueller. La fondation a en effet décidé d'octroyer à l'unité « Physique pour la Médecine » un soutien exceptionnel pour 4 ans pour mener à bien sa recherche innovante en imagerie et thérapie ultrasonores des maladies cardio-vasculaires.
> Lire la suite...
Victor Finel reçoit un prix en imagerie cardiovasculaire à l'EMIM (European Molecular Imaging Meeting)
Victor Finel, doctorant au sein de l'équipe Physique des Ondes pour la Médecine, a reçu le prix du meilleur poster dans la catégorie "imagerie cardiovasculaire" à la conférence EMIM 2018 (European Molecular Imaging Meeting) à San Sebastian, Espagne.
Ses travaux s'intitulent "Cartographie 3D de la contraction cardiaque sur un coeur de rat isolé par imagerie ultrasonore ultrarapide". Les résultats démontrent la faisabilité de suivre en 3D l'activation électro-mécanique du myocarde au cours d'un cycle cardiaque.
Les travaux ont été réalisés et présentés avec le soutien de l'European Research Council et de France Life Imaging.
> Voir toutes les actualités de l'Inserm U979...
Dernières publications
Multi-parametric functional ultrasound imaging of cerebral hemodynamics in a cardiopulmonary resuscitation model.
Demené, C., D. Maresca, M. Kohlhauer, F. Lidouren, P. Micheau, B. Ghaleh, M. Pernot, R. Tissier, and M. Tanter.
Scientific Reports 8, no. 1 (2018).

A versatile and robust microfluidic device for capillary-sized simple or multiple emulsions production.
Teston, E., V. Hingot, V. Faugeras, C. Errico, M. Bezagu, M. Tanter, and O. Couture.
Biomedical microdevices 20, no. 4 (2018): 94.

Myocardial Thermal Ablation with a Transesophageal High-Intensity Focused Ultrasound Probe: Experiments on Beating Heart Models.
Greillier, P., B. Ankou, P. Bour, A. Zorgani, E. Abell, R. Lacoste, F. Bessière, M. Pernot, S. Catheline, B. Quesson et al.
Ultrasound in Medicine and Biology 44, no. 12 (2018): 2625–2636.

A large aperture row column addressed probe for in vivo 4D ultrafast doppler ultrasound imaging.
Sauvage, J., M. Flesch, G. Férin, A. Nguyen-Dinh, J. Porée, M. Tanter, M. Pernot, and T. Deffieux.
Physics in medicine and biology 63, no. 21 (2018): 215012.

Ultrasonic fat fraction quantification using in vivo adaptive sound speed estimation.
Imbault, M., M. D. Burgio, A. Faccinetto, M. Ronot, H. Bendjador, T. Deffieux, E. O. Triquet, P. E. Rautou, L. Castera, J. L. Gennisson et al.
Physics in medicine and biology 63, no. 21 (2018): 215013.

Performance evaluation of the PET component of a hybrid PET/CT-ultrafast ultrasound imaging instrument.
Perez-Liva, M., T. Viel, T. Yoganathan, A. Garofalakis, J. Sourdon, C. Facchin, M. Tanter, J. Provost, and B. Tavitian.
Physics in Medicine and Biology 63, no. 19 (2018).

Pkd2l1 is required for mechanoception in cerebrospinal fluid-contacting neurons and maintenance of spine curvature.
Sternberg, J. R., A. E. Prendergast, L. Brosse, Y. Cantaut-Belarif, O. Thouvenin, A. Orts-Del'Immagine, L. Castillo, L. Djenoune, S. Kurisu, J. R. McDearmid et al.
Nature Communications 9, no. 1 (2018).

Self-adaptive ultrasonic beam amplifiers: Application to transcostal shock wave therapy.
Robin, J., A. Simon, B. Arnal, M. Tanter, and M. Pernot.
Physics in Medicine and Biology 63, no. 17 (2018).