Physique des Ondes pour la Médecine et la Biologie - Inserm U979 (POM)
Présentation de l'équipe
L'équipe Inserm U979 « Physique des Ondes pour la Médecine et la Biologie » est une unité Inserm/CNRS/ESPCI créée en Janvier 2008 au sein de l'Institut Langevin et dirigée par Mickaël Tanter (directeur adjoint Mathieu Pernot). Elle regroupe des physiciens spécialisés dans le domaine de la physique des ondes (optiques et ultrasonores) pour l'imagerie biomédicale allant des échelles cellulaires à l'échelle des organes.
Nous développons de nouvelles techniques pour l'imagerie médicale et la thérapie extracorporelle basées sur l'utilisation d'ondes ultrasonores, optiques ou électromagnétiques. Pour cela, nous avons été amenés à réaliser plusieurs plateformes ultrasonores et optiques très originales qui permettent de valider in vitro puis in vivo ces nouvelles approches. L'unité a été pionnière de nombreux concepts d'imagerie biomédicale tels que l'élastographie transitoire, la Shear Wave Elastography, l'échographie ultrarapide, et récemment le fUltrasound, imagerie fonctionnelle cérébrale par ultrasons. Enfin, nous nous tournons résolument vers des approches particulièrement innovantes d' "imagerie multi-ondes" exploitant les interactions entre ondes de différentes nature au sein des tissus.
Thèmes de recherche
La liste complète de nos produits et activités de recherche est téléchargeable ici.
Membres
Directeur

Directeur adjoint

Responsable administrative

Khadija BERTINO
Tél. : 01 80 96 30 55
Actualités
Les travaux de l'équipe médicale expliqués au grand public dans la revue "Ca m'intéresse"
| | |
| --- | --- |
| | Dans son numéro du mois d'août, la revue de vulgarisation scientifique Ca m'intéresse publie un article intitulé "Les nouvelles prouesses des ultrasons", citant les travaux réalisés par l'équipe de Mickaël Tanter au sein de l'Institut Langevin et l'ESPCI. Parmi les thématiques de recherche étudiées au laboratoire, sont reprises l'échographie ultrarapide et ses applications en élastographie, la super-résolution ultrasonore, et la thérapie du cerveau par ultrasons. |
Première implémentation clinique de l'imagerie fonctionnelle ultrasonore chez le patient adulte, publiée dans Scientific Report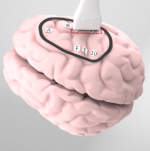 En collaboration avec des neurochirurgiens de La Pitié-Salpétrière, notre équipe a réalisé une première mondiale : l'imagerie neuro-fonctionelle ultrasonore (fUS) de l'activité cérébrale a été effectuée pour la première fois en péropératoire, chez des patients adultes au cours d'une chirurgie visant à retirer des tumeurs gliales de bas grade situées dans le cerveau. La publication de cette première preuve de concept dans Scientific Reports marque l'introduction des ultrasons comme une nouvelle modalité de neuroimagerie clinique. >Lire la suite...
>Lire la publication complète.

Claire Rabut reçoit le 2ème prix de la compétition étudiante en acoustique biomédicale à l'ASA

| | |
| --- | --- |
| | Claire Rabut, doctorante au sein de l'équipe Physique des Ondes pour la Médecine, a gagné en juin dernier le 2ème prix de la compétition étudiante en acoustique biomédicale de l'ASA (Acoustics'17 Boston) avec sa présentation sur "L'imagerie fonctionnelle dynamique en full-3D de l'activité neuronale chez le rongeur". La compétition regroupait un nombre record de 41 candidats. |
> Voir toutes les actualités de l'Inserm U979...
Dernières publications
Pulsed Cavitational Ultrasound Softening: A New Noninvasive Therapeutic Approach for Calcified Bioprosthetic Valve Stenosis.
Villemain, O., J. Robin, A. Bel, W. Kwiecinski, P. Bruneval, B. Arnal, M. Rémond, M. Tanter, E. Messas, and M. Pernot.
JACC: Basic to Translational Science 2, no. 4 (2017): 372–383.

3D Imaging with a Time Reversal Cavity: Towards Transcostal Focusing for Shock Wave Therapy.
Robin, J., B. Arnal, M. Tanter, and M. Pernot.
IRBM 38, no. 4 (2017): 234–237.

Effect of ultrafast imaging on shear wave visualization and characterization: An experimental and computational study in a pediatric ventricular model.
Caenen, A., M. Pernot, I. K. Ekroll, D. Shcherbakova, L. Mertens, A. Swillens, and P. Segers.
Applied Sciences (Switzerland) 7, no. 8 (2017).

Evaluation of Antivascular Combretastatin A4 P Efficacy Using Supersonic Shear Imaging Technique of Ectopic Colon Carcinoma CT26.
Seguin, J., N. Mignet, H. Latorre Ossa, M. Tanter, and J. L. Gennisson.
Ultrasound in Medicine and Biology 43, no. 10 (2017): 2352–2361.

Intraoperative Functional Ultrasound Imaging of Human Brain Activity.
Imbault, M., D. Chauvet, J. L. Gennisson, L. Capelle, and M. Tanter.
Scientific Reports 7, no. 1 (2017).

Ex vivo optimisation of a heterogeneous speed of sound model of the human skull for non-invasive transcranial focused ultrasound at 1 MHz.
Marsac, L., D. Chauvet, R. La Greca, A. L. Boch, K. Chaumoitre, M. Tanter, and J. F. Aubry.
International Journal of Hyperthermia 33, no. 6 (2017): 635–645.

An integrated and highly sensitive ultrafast acoustoelectric imaging system for biomedical applications.
Berthon, B., P. M. Dansette, M. Tanter, M. Pernot, and J. Provost.
Physics in Medicine and Biology 62, no. 14 (2017): 5808–5822.

Transcranial Functional Ultrasound Imaging in Freely Moving Awake Mice and Anesthetized Young Rats without Contrast Agent.
Tiran, E., J. Ferrier, T. Deffieux, J. L. Gennisson, S. Pezet, Z. Lenkei, and M. Tanter.
Ultrasound in Medicine and Biology 43, no. 8 (2017): 1679–1689.